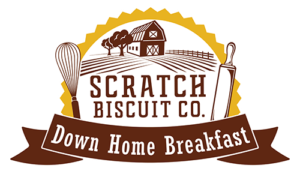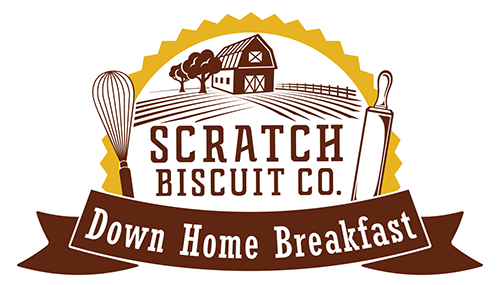 SCRATCH MENU
Monday: 7 a.m. – 2 p.m. * Tuesday: closed * Wednesday – Saturday: 7 a.m. – 2p.m. * Sunday: 8 a.m. – 2 p.m.
Butter Biscuit
Bacon Biscuit
Sausage Biscuit
Egg & Cheese Biscuit
Fried Apple Biscuit
Pimento Cheese Biscuit
Sausage & Egg Biscuit
Bacon & Egg Biscuit
Country Ham Biscuit
Fried Bologna Biscuit
Country Fried Sausage Biscuit
One Biscuit & Sausage Gravy
Hanz & Franz Pulled Pork Biscuit
The Colonel Biscuit: Made in-house peanut butter with strawberry or blueberry jam
Garden Grown Biscuit: Mushrooms, chickpeas and seasonings (upgrade available to vegetarian biscuit)
Brisket Biscuit
Bacon, Egg & Cheese Biscuit
Two Biscuits & Sausage Gravy
Country Ham & Egg Biscuit
Jerry Garcia Biscuit: Smoked or Regular Tofu
Fried Cajun Catfish Biscuit: Served with a chipotlé sauce
Jezebel Biscuit: Country ham, pimento cheese and Jezebel sauce
Bless Your Heart Biscuit: Fried green tomato, bacon and chipotlé sauce
Chicken Biscuit: Grilled or crispy
Nashville Hot Chicken Biscuit: Grilled or Crispy with pickles
Hot Honey Chicken Biscuit: Grilled or Crispy
Cotton Hammer Biscuit: Grilled or crispy chicken covered in Alabama White Sauce
SIDES
Stone Ground Grits
Sausage Gravy
Fried Apples
Fresh Potato Chips
Hash Brown
Sliced Tomatoes
Scrambled Eggs
2 Bacon Slices
Sausage Patty
Country Ham
Regular or Smoked Tofu
UPGRADES
Biscuit Upgrades
Upgrade to a Vegetarian Biscuit
Gluten Friendly Corn Arepa
Add Egg or Cheese
Add a Hash Brown
Add Lettuce, Tomato, Onions or Pickles
Options
Swap your biscuit for a bowl (no bread), a flour tortilla at no extra charge.
SWEET STUFF
Pancakes with Maple Syrup
French Toast with Maple Syrup
Cinnamon Roll
Granola Bars
2 Fresh Baked Cookies
BEVERAGES
Drinks
Soda, Iced Tea, Hot Tea, Juice, Milk, Bottled Water
Grelen Gold Coffee (Hot or Iced)
Roasted in-house exclusively for Scratch Biscuit
PLATTERS
The Early Rise Platter
Scrambled eggs and one butter biscuit,  with 1 side or with 2 sides
The Cowboy Crippler
Brisket, country fried sausage, pulled pork, hash brown and cheese on a Scratch Biscuit.
The Crippler Platter
Scrambled eggs, bacon, sausage & country ham
Your Choice: Grits or Sausage Gravy
Your Choice: Scratch Biscuit or Buttered Toast
BREAKFAST TACOS
3 Tacos – No mixing or substitutions
Bacon, Egg and Cheese
Sausage, Egg and Cheese
Egg and Cheese
Tofu and Cheese
SAUCES & TOPPERS
Sauces
Hot Honey • Chipotlé Sauce • Jezebel Sauce • Alabama White Sauce • Sweet VA Barbecue
Toppers
Strawberry Jamy • Blueberry Jamy • Apple Buttery • Honey
Looking for a printable menu?